Come to Hogtown: Fall Safari – Registration Deadline Extended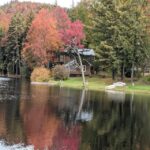 Members: The 2023 Fall Safari registration form, summary and itinerary is in the PDF below. Space is limited and registration will be first-come/first-serve, so please sign up ASAP.
Thurber Pond is a 30-acre private lake in the Hogtown area of West Fort Ann. Although it is surrounded by private land, there are thousands of acres of Adirondack Forest Preserve lands very close by, which are part of the Lake George Wild Forest. We will be staying in a large rental house and an apartment adjacent to Thurber Pond.
To Register: Fill out this form – Fall Safari 23, or click here to register online through our JoinIt membership software: https://app.joinit.com/o/nysowa
Link to Thurber Pond rental: https://www.adkbyowner.com/listings/VR12761.html
Vimeo Video: https://vimeo.com/236298741
It's going to be fun, hope you can join us!
Registration deadline has been extended to Sept. 21.