Mike Warren Named 2022 Pass It On Award Winner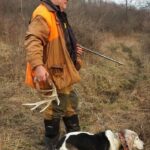 Mike Warren, of Hornell, in Steuben County, was named the recipient of NYSOWA's Pass It On award. Each year, NYSOWA selects a member who is recognized as someone who should be acknowledged for their dedication to Pass It On. This annual award honors the person who has done the most to "pass on" our outdoor heritage.
Warren has been a member since 1983. He was a teacher at Wildwood Education Center for 35 years through special education subjects. He was a hunter education instructor and a Sportfishing and Aquatic Resource Education Program (SAREP) instructor for sportfishing for many years. He taught fishing to the local 4-H program. He ran several JAKES youth events and youth fishing contests through the years. Through the Steuben County Federation of Conservation Clubs, he gave turkey hunting seminars and held a calling contest for the participants.
Warren has been a great example for passing on outdoor knowledge to the next generation. He walks the walk, and he talks the talk.
Initiated by Bass Pro Shops and continued by NYSOWA, it is an important award given at the group's annual conference.
Both Bass Pro Shops and NYSOWA have recognized the fact that it is vital to pass on our outdoor heritage, including understanding the role of conservation and promoting an interest in our outdoor sports. This can be done in several ways such as creating awareness through writing, helping organizations that promote these activities, or directly being involved in mentoring and educating.
Retired NYODN editor Steve Piatt is a past recipient of both awards, winning the Pass It On award in 2016 and the Keesler award in 2020. Current NYODN Editor Dan Ladd was honored with the Pass It On award in 2015.