Peconic River Club Named M. Paul Keesler NY Outdoor Group for 2022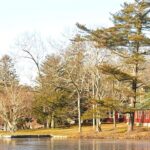 For the first time ever, a sportsman's club was named the recipient of the New York State Outdoor Writers Association's prestigious M. Paul Keesler New York Outdoor Citizen Award. The Peconic River Sportsman's Club, located in Manorville on Long Island, was recognized by the media organization.
The Keesler Award is presented to an individual or organization that effectively has raised the public's awareness of outdoor recreational opportunities and conservation issues in New York State.  The award was created to honor worthy individuals and organizations, at the same time perpetuating the name of one of the organization's dearest members.  The late M. Paul Keesler spent nearly five decades promoting and conserving the outdoor wonders and recreational opportunities within New York State.
The Peconic River Sportsman's Club has a long and rich history of promoting the values and traditions of participating in outdoor sports. They achieve this through a proactive philosophy of "preserving the past and enriching the future."
The club has a long list of accomplishments, too numerous to mention, and are active supporters of the local community. The club's members are the epitome of a world class outdoor sporting club whose mission goes beyond the boundaries of traditional outdoor sports.
The club's 400-acre property consists of woodland fields, trails, a 38-acre lake, various sporting venues and several historic buildings that were part of the Donahue-Woolworth Estate. Sporting activities of the club include a licensed game preserve, indoor and outdoor archery ranges, small bore, and high-power rifle ranges, and a 50-yard pistol range that features both bullseye and turning targets, as well as steel plate shooting. The club also has a shotgun sports facility that features six combination trap and skeet fields, a 5-Stand and a 15-station sporting clays course.
The club holds competitions in trap, skeet, sporting clays, rifle, pistol, and archery. Educational programs are a key aspect of the club's mission, including hunter safety training, youth conservation, and hosting a U.S. Service Rifle Small Arms Firing School to name but a few.
Members Angelo Peluso and NYSOWA president Chris Paparo will be presenting this award to the club at its December meeting.
Visit the Peconic River Sportsman's Club website at: https://peconicriver.club.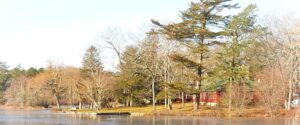 Photo by Angelo Peluso