Glenn Sapir Receives NYSOWA's Prestigous Hans Paller Award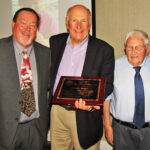 Glenn Sapir of Putnam Valley, NY was honored with the Hans Paller Memorial Award at the New York State Outdoor Writers Association's annual conference in Corning on May 13. 
In 1966, the late Hans Paller of Massena had a dream of forming a state outdoor writer association. He became known as the father of this organization once it was finally created in 1967. A very special award was named after him – the Hans Paller Award. It is NYSOWA's highest honor, and it has only been given out 6 times. It is given out periodically to an individual who has devoted many years of outstanding service to this organization. The first recipient was appropriately Bill Hilts, Sr. who helped formed the group with Paller. Other recipients included Scott Sampson, Paul Keesler, Bob McNitt, Leo Maloney, and Bill Hilts, Jr. 
Sapir is a long-time member who has won numerous awards through the years, not just with New York State. He has belonged to other writer groups and is an award-winning outdoor journalist. From the Outdoor Writers Association of America, he received the outstanding board member twice, the Ham Brown Award for outstanding service, and the Excellence in Craft Award for outstanding service. From the Association of Great Lakes Outdoor Writers, he received the Golden Glow Award for lifetime achievement. He received communicator of the year from the National Wild Turkey Federation. He has been inducted into the New York State Outdoorsman Hall of Fame. From NYSOWA, he has received the M. Paul Keesler Memorial Award and the Pass It On Award.
He is a past president of NYSOWA, has served on the Board of Directors and on the Executive Board. He is quick to take on a task or duty and not just to make sure it is completed. In nearly every instance, he raises the bar on whatever his assignment might be and takes it to the next level. He is the epitome of professionalism and excellence. 
One of his committees includes the NYSOWA Excellence in Craft Program, quite possibly his greatest contribution to NYSOWA. Through his leadership, the program went from three non-industry judges for all our writing categories to three different, nationally renowned professional communicators as judges for several categories. That might mean up to 18 different individuals. In addition, he has sought recruitment of EIC and banquet sponsors.