Leo Maloney wins NYSOWA Pass It On Award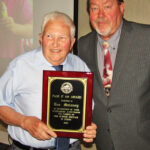 Leo Maloney of Sherrill, NY was this year's recipient of the 2023 New York State Outdoor Writers Association's "Pass It On" Award.
Each year, NYSOWA selects a member who is recognized as someone who should be acknowledged for their dedication to "Pass It On." This annual award honors the person who has done the most to "pass on" our outdoor heritage. Initiated by Bass Pro Shops and continued by NYSOWA, it is an important award given at the group's annual conference. It was handed out this year in Corning on May 13 at the group's annual awards banquet.
Both Bass Pro Shops and NYSOWA have recognized the fact that it is vital to pass on our outdoor heritage, including understanding the role of conservation and promoting an interest in our outdoor sports. This can be done in several ways such as creating an awareness through writing, helping organizations that promote these activities, or directly being involved in mentoring and educating.
Maloney fits the bill on all accounts. It seems like he has his fingers in everything. In fact, he needs more hands! He is the glue that holds this organization together, serving the organization time and time again. He has won every award the organization offers, except for this one. He should have been its first recipient, but he was running the program at the time! We could go on and on with the accolades as far as his media credits. He has also been very involved with the New York State Outdoorsman Hall of Fame and other organizations. Along the way he has received countless awards and recognitions, all very deserving. Congratulations Leo!